Hall of Fame
Thanks to its history of durability (backed by a limited lifetime warranty on most critical components), Broilmaster owners remain Broilmaster owners for a long time; some even send fan mail with photos.
Marty T. – Idaho
Greeting from the Idaho mountains. We wanted to add our grill to your hall of fame. It is a 1968 vintage Warm Morning Broilmaster gas grill. It is the best grill I have ever used and I have used many over my lifetime. We inherited the grill from the previous owner of our cabin. She said it was just to heavy to move. LUCKY US!
The grill has spent its life at our cabin at 7000 feet about 20 miles north of Sun Valley Idaho. We use the grill year round..in the winter we 'snowbecue'. We have replaced the burner a couple times but other than that its all original.  Just last week it was knocked over by a snoopy bear. Still works great. Thank you for making such a wonderful grill.
---
Wulf H. R. – Hamburg, Germany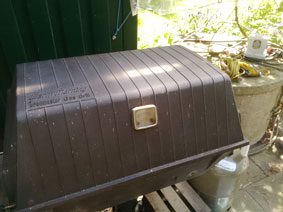 For more than 40 years we have been proud owners and heavy users of your Warm Morning Broilmaster grill. So far we never have seen a better grill, even though some US makers are selling fancy and stylish units in Germany. The Broilmaster's frame and grill body have held up well, despite being used in a rough climate with salty winds, so we would like to upgrade our nice unit.
(Note: Broilmaster does not sell grills in Europe, but some customers try one in the US and ship it home.)
---
John and Eileen M., Whitinsville, MA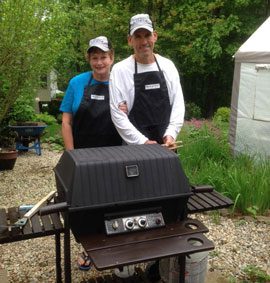 We received our Broilmaster Warm Mornings grill as a wedding gift 28 years ago. Over the years the grill has helped us provide many meals and entertain countless guests. We have re-stained the shelves and repainted the grill, but it is still going strong. Thank you, Broilmaster, for a quality product that lasts.
---
Alan & Sherri – Toronto, Canada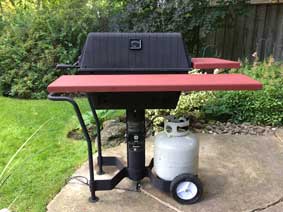 My wife and I purchased this Broilmaster G4 in 1976, the year we were married. Regular maintenance and the availability of replacement parts allow us to enjoy it 40 years later.
---
Joel I.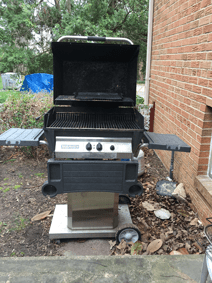 This grill has survived 25 years of 3 kids, 4 houses, a few Thanksgiving turkeys, conversion from natural gas to propane (and hopefully back again one day), and been rebuilt several times over the years. It has been responsible for grilled chicken for my wife's lunch several days a week for those 25 years, many parties, and a whole lot of dinners. We thought it was crazy to spend that much on a grill, but it was well worth it. I think it is part of the family now…but I'm not sending it to college!
---
Mark M. – Kansas City, KS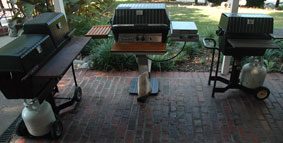 I have been a loyal Broilmaster fan since I first learned about your grills over ten years ago. From left to right, 1972 G-2000DX; 1991 P3BL (my 'daily driver') and 1968 G-1000 EX.
---
Steve G. – Portland, OR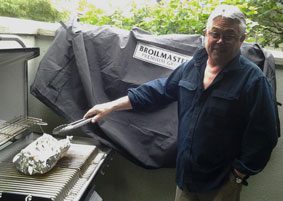 Besides being an excellent grill for both fish and meats, the 15,000 BTU side burner performs so well, we've taken to preparing our meals outside on our new Broilmaster. Your entire team, from design to production, have created a product they can be proud of.
---
Kostas & Nina Z. – Morton Grove, IL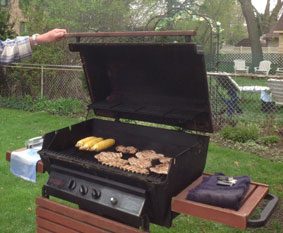 Our Broilmaster by Warm Morning was purchased 35 years ago and is still going strong today. This grill has seen us through countless backyard dinners and parties. Thanks, Broilmaster, for making the only grill we've ever needed!
---
Bob W. – Yarmouthport, MA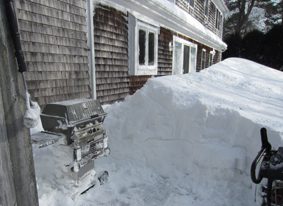 Nothing keeps me from my Broilmaster Grill.
(Record snowfall January 2015)
---
E. Rabuka – Canmore, Alberta Canada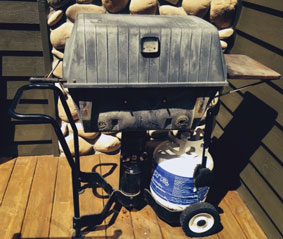 We acquired this Broilmaster from my parents in 1984. Not sure how long they had it prior to that time. My mother's favorite story about the BBQ was when the electricity at the farm went off due to a thunder storm. She had bread rising and about ready to bake. What to do? Easy. She baked it in the Broilmaster and it turned out perfect!
---
Hank & Jane R. – Florida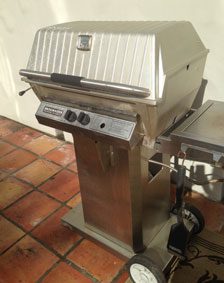 Thank you, Broilmaster, for still making all the parts to overhaul our Ducks Unlimited grill. We've had the grill for about 15 years now and decided to get it ready for the grilling season with a new igniter, casters, and knobs. While we were at it, we took it upscale with a new griddle and an infrared side burner in a stainless shelf. We topped it off with a custom paint job in high-temp silver. It looks brand new and is uniquely ours. We have fallen in love with our Broilmaster all over again! Thanks a ton!
---
Gary F. – Monroe, LA
I purchased a Broilmaster P3SX grill last month. I love this grill. I have been cooking on a Holland grill for the last 20 years. I didn't know what I was missing. The Holland has been put into retirement. You make a great grill.
---
Jim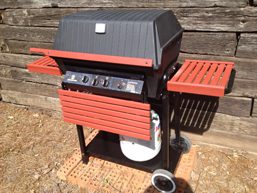 I thought you might like to see a picture of our new (rebuilt) Broilmaster Grill. This is a D3 which we bought almost 20 years ago. It looks brand new now (except for the control panel label, for which we couldn't find a replacement), and when it was put back together it fired up with the first click! We love our Broilmaster and hope to use it for many more years to come.
A bit about the rebuild. I tore down the original grill and cart by removing everything which could be taken apart. I sanded and stained the redwood shelves, then stripped the cart and body down to bare metal and my wife repainted them. I carefully removed the old control panel label before repainting the control panel shell, then re-glued the label to the shell. I cleaned all of the gas connector parts and re-cemented all the pipe fittings. A new temperature gauge, igniter button, collector box, grease cup and holder, heat shield and Bowtie burner were installed, and I replaced most of the hardware (bolts, nuts, washers, screws).
Thank you for all the great service you and the parts department have provided. It is not often that a product can be serviced with spare parts after 20 years. You are truly professionals and it was a pleasure working with you throughout the ordeal!
---
Mike P. – Oneida Lake, NY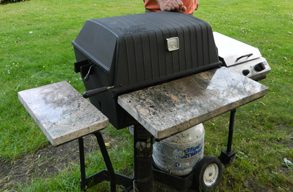 I purchased my Broilmaster Grill in 1978 just before my wife & I were married. It went through many years of grilling year round with my friends & family.
I'm now "almost" retired and living at my Lake House with my cherished restored Broilmaster Grill. I've added the Broilmaster side burner and granite shelves to make it the talk of the beach.
My neighbors are amazed that a grill can survive and look this good after 33 years and still cooking.
Thank you Broilmaster for a job well done.
---
Dave L. – North Bay, Ont., Canada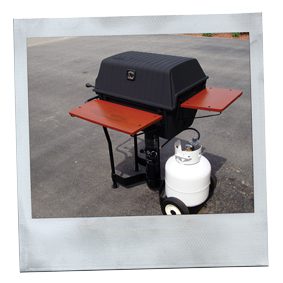 I bought this Broilmaster back in 1980, and just rebuilt it for my daughter, who bought a house and needed a grill. It's nice to buy quality and still be able to buy parts for it after 29 years. Thanks for keeping a great product going!
30 years and still cookin'!
---
Chris – Atlanta, GA
I received one of your grills as a gift from my father in 1992. Due to the quality of your product and the fact that you stand behind your grills, I plan to buy a new one tomorrow. In addition, I look forward to one day giving my son, now 7, a Broilmaster, as my father did for me. Thank you for providing such great products and service.
---
Josh – Grantsburg, WI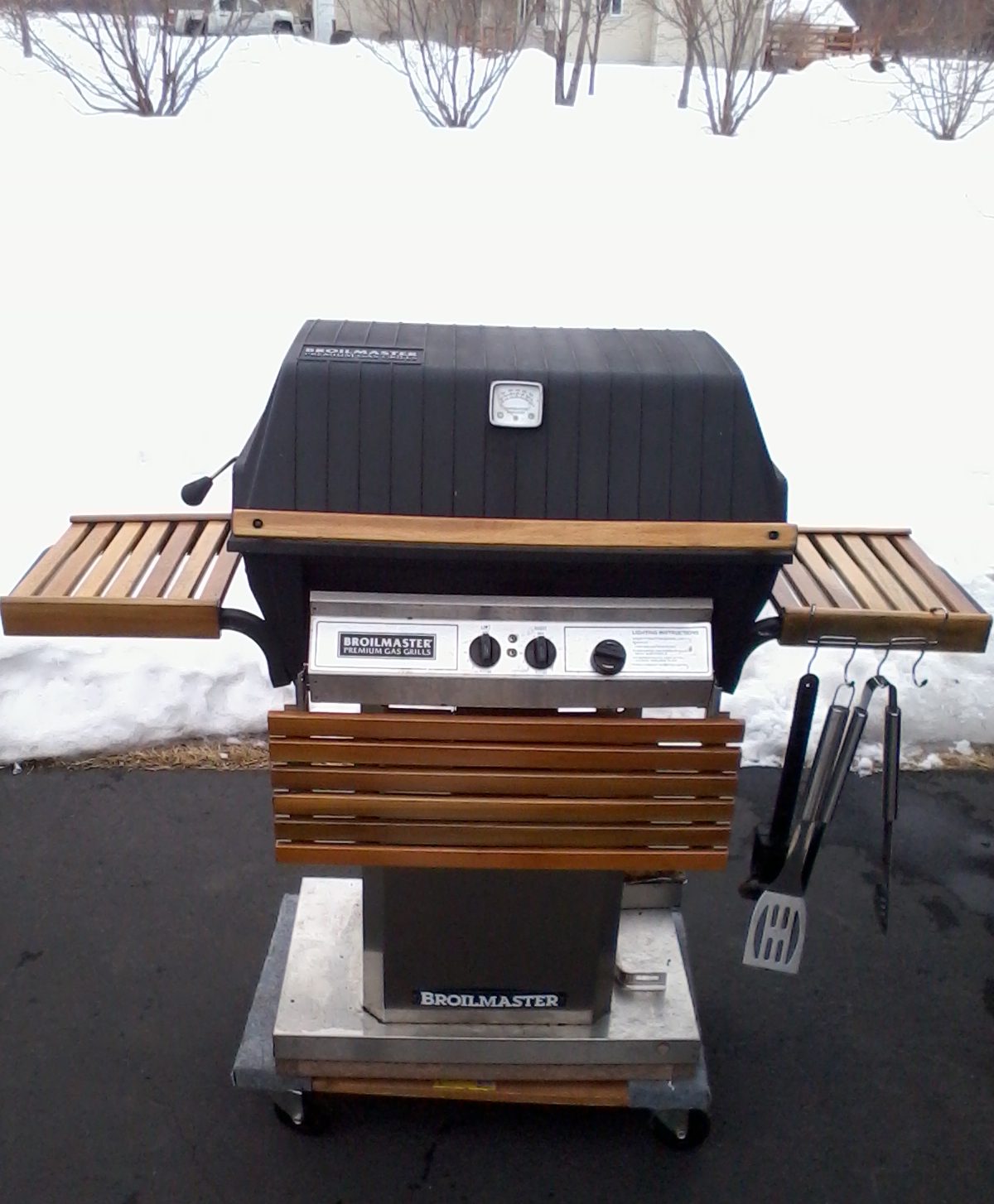 I was given this 1996 Broilmaster and can't believe what I was missing. I did a full restoration on it – paint, wood, burner, and warming rack in stainless steel. All factory parts since they were original from 1996 I couldn't see anything else being better. I can place any piece of meat on any spot in this grill and cook it perfectly. I don't know why anyone would every buy a big box store grill after using this. I tell everyone I can about it. Life customer here!!!! Thank you!
---
Aaron S. – Ann Arbor, MI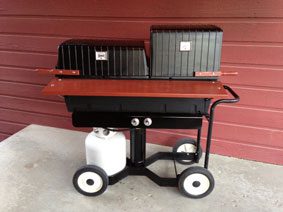 In 1972, my dad bought this Warm Morning Broilmaster II, Model G-2000DX. I was 4 years old at the time, so it's safe to say that I've been enjoying cookouts on this grill my entire life! Now this beauty is mine and hopefully with the same TLC my dad gave this grill, I hope to enjoy it for another 40 years!
---
Luigi – Italy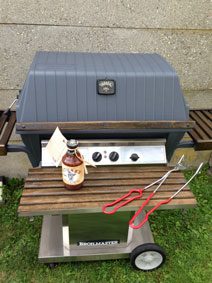 This BBQ joined my family in 1994 after a business trip of my father in USA. He had the chance to taste a juicy Chop cooked with Broilmaster and decided to purchase one and take it to Italy where, at that time, was not possible to find a gas-grill. We went together to the airport to pick it up and we mounted it. Since that day, Broilmaster saw all our parties, also during winter time for more than 20 years. Now we decided to refit it and to renew the "anytime-any weather" grill experience ! It will stay with us again.
Note: Broilmaster does not sell grills in Europe.
---
Alan C. – Decatur, IL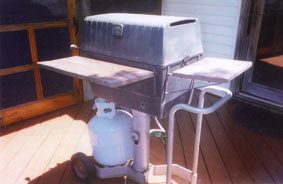 Maybe it's no looker, but my Broilmaster has given 40 years of steady service! Bought by my father-in-law, and given to me. Overhauled a few times. And with a new burner (thanks to Clayton Sales in Decatur) it grills like new! What other grill gives this kind of service?
---
BW – Vancouver, WA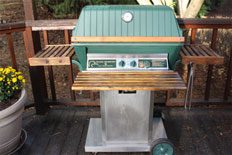 I bought my Broilmaster "Ducks Unlimited" grill in the mid 1990's. After nearly 20 years I decided to restore it. I totally disassembled and cleaned the grill and stainless steel cart.
I replaced the burner and temperature indicator with factory parts and replaced all hardware with new stainless fasteners. I was lucky enough to find green high temp paint that matched the original finish perfectly, restoring the grill to its original "Ducks Unlimited" green finish. The "Teak" wood racks were cleaned, sanded and treated with Teak wood oil. I am sure it will last another 20 years.
---